MSTECH
---


Home
Products
>
PCB Depaneling Router
nDPL-S (Single) Single Off-Line Router
Features
Single Table Off-Line Router
Dual Spindle as Standard
High Efficiency Dust Collecting System for 0% Remaining Dust
Quick & Easy Programming with Camera & MPG/Jog
User Friendly GUI Based on IPC & Touch LCD
Compact Design
Options
Vision System
Barcode Interlock & MES Interface
Bit Detection System
ID Verification with Fingerprint
Features
Single Shuttle Table

It is able to respond flexibly at production line with applied single table. (Lean concept)


Dual Spindle Head

It is able to be fast cutting speed & high performance by applied 2 spindle head as standard. And do auto adjustment spindle width by model. (Option, up to 3~4 spindles)

Operator Reduction

It is reduced the operator & management expense to apply multi head as efficacy of 2 machines.


Camera Teaching

It is available teaching accurately & easily to use camera

Compact Design

It is the most compact design for securing customer space


Multi-Bit Function & Life Time Management

It is using multi-bit by 2~3 level for reducing consumable cost of customer and sounding alarm when bit is on each level by life time management.

Ionizer

It is standard installation for protected PCB and efficient removing dust(area ionizing type)


Full Graphic Interface

It is easy & comfortable operation by applied GUI base on windows

Spindle Mate(Self-diagnosis)

It is prevented the PCB damage caused by spindle with detecting the spindle status by real-time.


Safety Sensor

It is applied for safety of operator of loading/unloading PCB.

Options
Vision System

It is able to detect different model and loading fail, and available fiducial checking.


Barcode Interlock & MES

It is used vision system or scanner to read the 1D/2D barcode for MES function with costumer's network

ID Verification with Fingerprint

It is available to be high security user management and easy logging by registered and appreciated user fingerprint.


Edge Detection Function

As powerful vision system function, the both sides PCB edges beside a cutting tab are detected and compensate cutting position by tolerance of boards.

PCB Unloader

It is using the vacuum type unloader to pick PCB up from jig for avoiding operator mistakes unloading PCB.


Bit Detection Sensor

It sounds the alarm when detecting bit broken automatically

CAD/CAM Data Conversion

It is converted CAD/CAM data to routing cutting data then able to do offline programing.


Real-Time Spindle RPM Monitoring

It is protected PCB with sounding alarm when spindle PRM is declining by detecting it in real time.

Auto Width Adjustment for Multi-Spindle(AWA)

It is able to install 3~5 spindles in depending PCB array. each spindle is able to do auto width adjustment(AWA)
(patent)


Real-Time Self-Diagnosis Dust Collector

It is able to Do Self-Diagnosis about Pressure, Damage & Pollution Level Inside Dust Collector and Sound Alarm to Router(Patent-Pending)

Filter+Cyclone Complex Dust Collector

It is able to use Filter Semi-permanently with Applied Cyclone, and Install Plastic Bag.


Easy Handling Dust Collector

It is Able to Use The Plastic Bag for Disposing Dust Cleanly & Easily.

Specifications(Standard)
Layout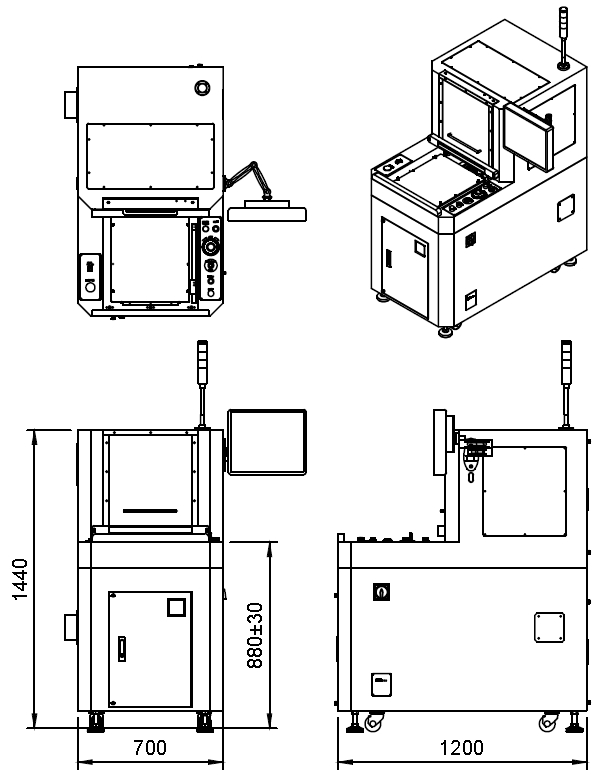 ---