MSTECH
---


Home
Products
>
PCB Sawing System
nDPL-TW (Twin) Twin PCB Sawing System
Features
Twin Table PCB Sawing System
X & Y Full-Duplex Cutting (Rotating Saw Head)
Simultaneous Top/Bottom Dust Removal
Quick & Easy Programming with Camera & MPG/Jog
User Friendly GUI Based on IPC & Touch LCD
Compact Design
Options
Vision System
Barcode Interlock & MES Interface
Bit Detection System
ID Verification with Fingerprint
Features
Twin Shuttle Table

It is able to be minimum idle time for loading/unloading PCB with applied twin table.


X & Y Full-Duplex Cutting

It is able to cut by full-duplex ways as horizontal & vertical with applying the rotating saw head.

Perfect Dust Removal

It is able to be perfect dust removal with simultaneous top/bottom dust collection.


Camera Teaching

It is available teaching accurately & easily to use camera

Compact Design

It is the most compact design for securing customer space


Tool(Saw Blade) Lift Time Management

It sounds alarm for replacement when saw blade is matched with set point. And it is able to set point of the saw blade lift time.

Ionizer

It is standard installation for protected PCB and efficient removing dust(area ionizing type)


Full Graphic Interface

It is easy & comfortable operation by applied GUI base on windows

Safety Sensor

It is applied for safety of operator of loading/unloading PCB.

Options
Vision System

It is able to detect different model and loading fail, and available fiducial checking.


Barcode Interlock & MES

It is used vision system or scanner to read the 1D/2D barcode for MES function with costumer's network

ID Verification with Fingerprint

It is available to be high security user management and easy logging by registered and appreciated user fingerprint.


Dimensional Inspection

It is inspecting cutting measure is qualified or not base on specification after cutting.

OK/NG PCB Separation System

It is able to do self-diagnosis about pressure, damage & pollution level inside dust collector and sound alarm to router(patent-pending)


Real-Time Self-Diagnosis Dust Collector

It is able to Do Self-Diagnosis about Pressure, Damage & Pollution Level Inside Dust Collector and Sound Alarm to Router(Patent-Pending)

Filter+Cyclone Complex Dust Collector

It is able to use filter semi-permanently with applied cyclone, and install plastic bag.


Easy Handling Dust Collector

It is able to use the plastic bag for disposing dust cleanly & easily.

Specifications(Standard)
Layout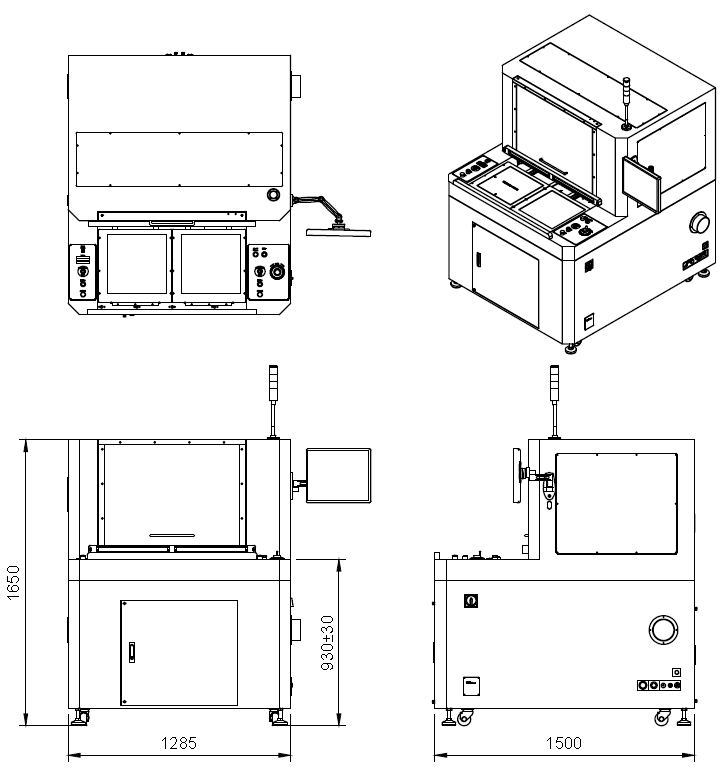 ---